Spring is here, a season of changes… Allen Acupuncture & Wellness has undergone a change of its own, now with 2 great locations in Boca Raton and Greenacres, FL. Please take a peek at the update below: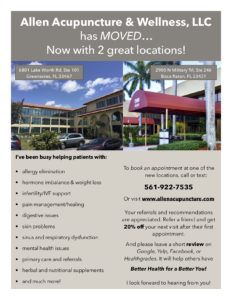 And please feel free to leave a review of Allen Acupuncture & Wellness on one of the following links:
Google: (google "Allen Acupuncture and Wellness" and click "write a review")
Healthgrades: https://www.healthgrades.com/providers/sara-allen-xynhhfx
Yelp: https://www.yelp.com/writeareview/biz/WHd0RdD1IZciIAim_BnIEw?return_url=%2Fbiz%2FWHd0RdD1IZciIAim_BnIEw&source=biz_details_war_button
Facebook: https://www.facebook.com/allenacupuncture/ (click Reviews)
Thank you for being a part of the practice! May you have Better Health for a Better You!