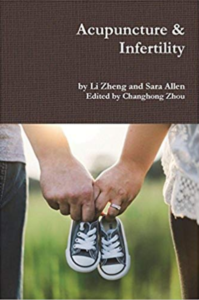 Sara Allen, NCCAOM National Board Certified Acupuncture Physician, and Nationally Board-Certified in Oriental Reproductive Medicine (FABORM), co-authored Acupuncture and Infertility (Lulu Press, 2018) with Dr. Li Zheng because one in ten couples struggle with infertility. Acupuncture and herbs help increase fertility with and without IVF and other fertility treatments. This book addresses health issues such as endometriosis, fibroids, estrogen dominance, PCOS, IVF assistance, ovarian insufficiency,  postpartum depression, poor sperm quality, immune and thyroid dysfunctions. There are food therapy and lifestyle suggestions for patients to increase their fertility as well as case studies for each fertility topic. It's available on Amazon.
I also write, co-write, ghost write and edit articles for online publications on various health topics, especially acupuncture on topics from migraines, to acid reflux, to ADHD.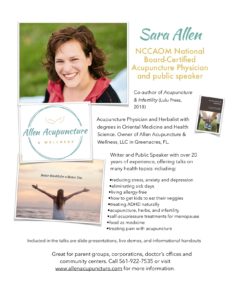 With a strong background in education, I have a lot of public speaking experience. I am available for health talks on many subjects including:
reducing stress, anxiety and depression
eliminating sick days
living allergy-free
how to get kids to eat their veggies
treating ADHD naturally
acupuncture, herbs, and infertility
self-acupressure treatments for menopause
food as medicine
treating pain with acupuncture
These topics are great for parent groups, corporations, doctor's offices and community centers. Call 561-285-8562 for more information and download my speaker one sheet Sara Allen Public Speaker.